Doctor Listing Site in India
Are you a Doctor and Looking For Doctor Listing Sites in India to Submit Your Information? Then You Come to The Right Place. If You Want to Publish Your Information on Our Website. Please Follow The Instruction, And If You are Agree with Us, Then Send the Information to Our Email Address.
Bookdronline.com site is a Doctor Listing Sites in India. This site is Helping the Common Man by Sharing the Doctor List. And Now More Than Three Thousand + People Come to Our Website Every Day to see the Doctor List, Address, and Contact Information. Many People Will Know You If you share all Your Information on Our Website.
---
क्या आप डॉक्टर हैं और अपनी जानकारी जमा करने के लिए भारत में डॉक्टर लिस्टिंग साइटों की तलाश कर रहे हैं? तो आप सही जगह पर आएं। यदि आप अपनी जानकारी हमारी वेबसाइट पर प्रकाशित करना चाहते हैं। कृपया निर्देश का पालन करें, और यदि आप हमारे साथ सहमत हैं, तो हमारे ईमेल पते पर जानकारी भेजें।
Bookdronline.com साइट भारत में एक डॉक्टर लिस्टिंग साइट है। यह साइट डॉक्टर लिस्ट शेयर कर आम आदमी की मदद कर रही है। और अब हमारी वेबसाइट पर हर दिन तीन हजार से ज्यादा लोग डॉक्टर लिस्ट, पता और संपर्क जानकारी देखने आते हैं। यदि आप हमारी वेबसाइट पर अपनी सारी जानकारी List करते हैं तो बहुत से लोग आपको जानेंगे।
Instruction To Publish Doctor Information On Our Website
If you are a specialist doctor and want to join this website. Then you have to make a payment of Rs.49 Rupes (One Time).
Below, you will get a Bar Code and UPI ID to make the payment. The name of the doctor must be mentioned while making the payment. Once the payment is done, take a screenshot of the payment.
When sending us the doctor's information, the screenshot of the payment must be provided.
The doctor's information will be published within 24 hours of receiving the doctor's information.
---
यदि आप एक विशेषज्ञ डॉक्टर हैं और इस वेबसाइट से जुड़ना चाहते हैं। फिर आपको 49 रुपये (One Time) का Payment करना होगा।
नीचे आपको पेमेंट करने के लिए एक बार कोड और यूपीआई आईडी मिलेगा। Payment करते समय डॉक्टर के नाम का उल्लेख किया जाना चाहिए। भुगतान हो जाने के बाद, भुगतान का स्क्रीनशॉट लें।
हमें डॉक्टर की जानकारी भेजते समय, भुगतान का स्क्रीनशॉट अवश्य उपलब्ध कराया जाना चाहिए।
डॉक्टर की जानकारी प्राप्त होने के 24 घंटे के भीतर डॉक्टर की जानकारी प्रकाशित की जाएगी।
Barcode / UPI Id For Payment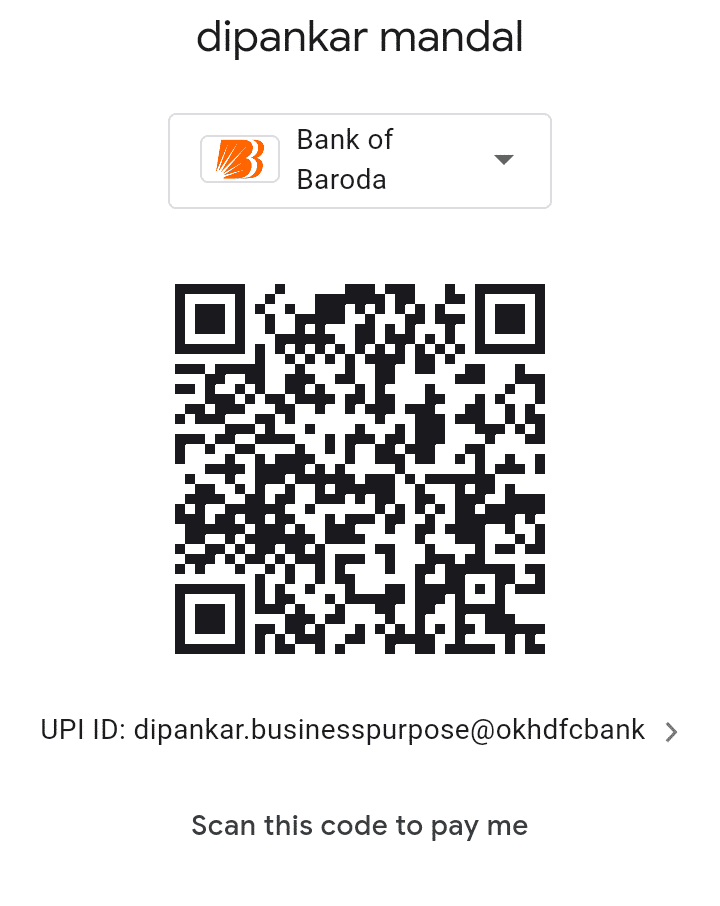 Needed Below Information For List & Create Your Doctor Profile
Payment Receipt Screenshot *
Doctor Name:

*

Gender: *
Degree: *
Practicing Since: *
Name of State Medical Council: *
Qualification ( School, College Name all Info):

*

Specialist:

*

Designation:

*

Expertise:

*

Experiences: (Years)

*

Organization:

*

Registration Number

*

Full Address:

*

Visiting Hours: (Time+Day)

*

Phone for Appointment:

*

Fee:
Email:

*

About Doctor:
Photography

*
You Can Fill Form
If You Want to Post Information About Doctors On Our Website, Then You Can Email Us. Email Address: bookdronline@gmail.com